In 2015, Better World developed the Rocket Stove as a response to the rapid depletion of forests and the serious effects caused on the environment. It also improved the living conditions of ordinary people in their kitchens. The stove was ingenious because it uses far less wood than open fire cooking. This allows forests to regenerate sustainably and keep a balance in the ecosystems of communities. In addition, the stove retains heat to keep food warm longer and warms the home in the process. It also keeps the kitchen smoke free thanks to the chimney that directs smoke to the exterior. The stove's multifaceted nature makes it ideal not only for cooking but also for other methods like baking and drying.
Why Rocket Stove?
What is the Problem and what are the needs to be overcome?
In rural areas of Cameroon 98% of the population are using solid fuel (wood/ charcoal) for cooking. The cooking culture involves large, heavy, cast pots, holding food for several people for a day. So far the most common way to supply enough heat to such a pot is a three-stone fire. This not only uses large amounts of firewood, it also causes heavy smoke pollution in kitchens which in turn cause health issues for women.
We believe that women can take charge of changing their kitchens by learning how to build their own "rocket" cook stoves. An adapted design, simple materials and a teaching workshop can enable a group of women to build stoves together.
Empowering women to change their lives
We are working to organize training for trainers, workshops for women groups in Bafut villages and to set up a social business to build stoves in Cameroon.
Through the Training for Trainers (ToT) Programme, we organize workshops for women's groups in Bafut villages to create a social business to build stoves in Cameroon.
Training women as trainers for local sustainability
We select and invite individuals from each workshop to help facilitate other groups and become part of a trainers network. Teaching skills, workshop organization and small business development are planned topics of a follow-up training.
A workshop can teach 12-15 women to build stoves in one day. Group members will then be expected to continue building stoves for each other until all members have their own. In a follow-up visit further instructions are given regarding finishing and operating stoves.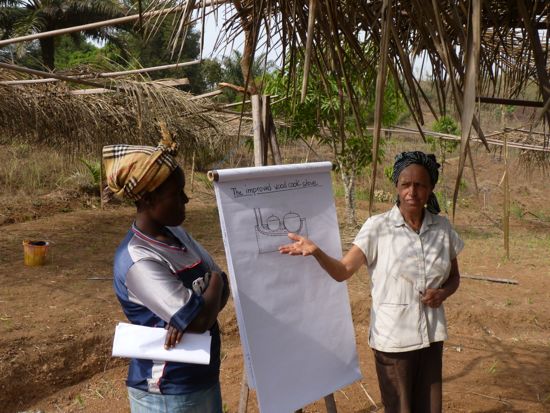 Why build stoves with women?
We offer a solution that uses local materials only and is in the hands of those who use it: the women!
Women will have more time available for business or community activities, because less time is spent gathering firewood and cooking;
When women earn money they invest in the family: school fees, health and welfare;
Opportunities for creating businesses;
Improving the Environment: less pollution through clean burning;
Saving forests through reducing firewood consumption by 60-70%;
Smoke free kitchens: better health for women and children;
Fire safety: fire is inside the stove, away from clothing and reach;
Affordability: All local (low-cost/ free) materials;
Women know their stove and can make improvements and repairs.
Skills are transferable and can also be used to make home improvements
The following is a short explanation in Pidgin about benefits of the stove:
We see the possibility to take this idea into other regions and countries and are open to your inquiries. Please contact us